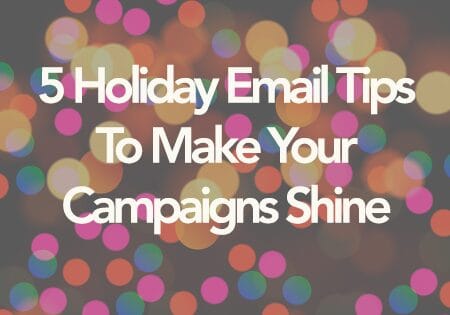 5 Holiday Email Tips to Make Your Campaigns Shine
It's that time of year again. The time of year when marketing teams are busy preparing and deploying their holiday campaigns. You may have recently noticed an uptick in the number of emails received in your inbox. With the hustle and bustle of the season, here are 5 great tips to help create successful holiday campaigns.
1. Plan in advance
According to the National Retail Foundation, over 40% of people plan to start their holiday shopping by October. With consumers starting their holiday shopping early, marketers need to get ahead of the curve with a strategy and plan. Start early by thinking about key send dates, frequency of emails, what your marketing calendar will look like, creative and production.
2. Personalize it
As busy marketers, it's easy to forget that there is an actual person on the receiving end of the email. According to Aberdeen, click through rates are improved by an average of 14% and conversions by 10% when using personalization. Use personalization to connect to your customers. First name is great, but using dynamic content based on data you've collected on the customer's usage, likes and preferences will leave a lasting impression of your brand.
3. Use email validation
With all the planning and hard work it takes to create a holiday email campaign, the last thing you want to find out is that your emails didn't reach your customers inbox. Using an email validation tool, like ZeroBounce ensures a deliverability rate of 98% or higher through:
Email bounce detection – removes invalid emails from your list to prevent email bounces

Email abuse and spam trap detection – removes know email complainers and spam traps

Email data append – appends missing data such as first and last name, gender, location, city, state/region, and country when the registration IP is provided.
This can help increase the 85% average (in all industries) inbox placement rate by managing bounce rates to drive more business and reach your customers.
4. Utilize segmentation
We've heard the saying that no two people are alike. It's goes without saying that remembering this saying when planning our campaign, or any campaign in general will go along way. Targeting the right person with the right message is half the battle. Research down by MailChimp shows that segmented campaigns get 14.64% more opens and 59.99% more clicks than non-segmented campaigns. For your holiday campaigns focus on key customer groups like:
Subscribers who brought last year during the holiday season

New subscribers

Inactive subscribers

Your most loyal customers

Demographics like age, location, interests
The more you know about your audience, the better you can segment and send targeted messages which will lead to more conversions.
5. Be creative
Part of the planning ahead is creating exciting and engaging creative/content to engage your audience. Let the creative juices flow, maybe you draw on the emotion of the season, create an engaging video email, send a silly GIF or a fun interactive email. Whatever type of creative you design, make it stand out from the rest in the sea of holiday emails.
Get inspired with these tips to help you create a winning holiday email campaign. What will you be doing for your holiday campaign this year?