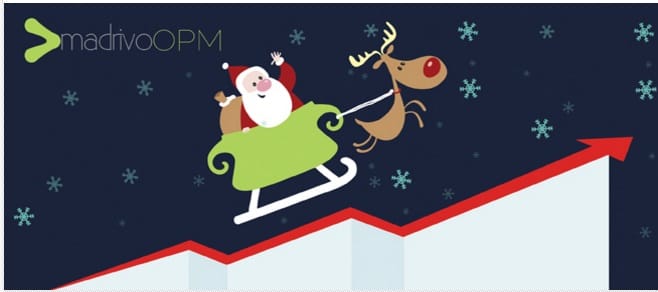 10 Urgent Actions to Improve Holiday Sales
Don't let the holiday shopping rush catch you unprepared. Use this post as your readiness checklist.
Update Shipping Information to Keep Customers Informed
Study shipping schedules to determine the last calendar day that customers can place an order without jeopardizing the timely arrival of their purchases. Draw up a list of options for last-minute shipping. Then, plan how you will publicize this information. Post shipping deadlines conspicuously throughout your site.
After your shipping deadlines, you can still take advantage of last-minute shipping by featuring an option to purchase gift cards that can be instantly sent by e-mail and printed by the recipient.
Encourage additional sales by offering free shipping for purchases that reach a certain total price. Plugins are available that let shoppers see how much more they need to spend to reach your free shipping threshold – this is a great opportunity for upselling.
Several online sellers have named December 18, 2015 as "Free Shipping Day." This date was chosen because for most merchants it is the last day that items ordered with standard shipping will arrive by Christmas Eve. If December 18 fits in your timeline, you might consider joining this movement. If not, host your own "Free Shipping Day," just be sure to publicize it well.
Optimize Shopping Sites for Functionality and Ease of Use
If you have an existing mobile shopping site, make sure you're ready to handle potentially much larger volume than last year. According to Google's Consumer Holiday Intentions Survey, 52% plan to do holiday shopping and research on their mobile devices this year – and mobile shopping searches are up 120% year over year.
Test all areas of your regular online shopping system to make sure that the system can handle unexpected rushes efficiently. Make sure that you have a backup system, too. Nothing loses potential buyers faster than an online site that is slow, and repeat business suffers when buyers pay for an order and do not get it on time.
Plan Special Sales and Follow Up
Consider buying special placement to boost your holiday sales efforts! Thanksgiving Day Weekend, including Black Friday and Cyber Monday, is almost here. If you're running big promotions these days, consider investing in featured placements with your top affiliates to drive additional traffic on those days. Google statisticians revealed that 48 percent of holiday shoppers made multiple purchases during Thanksgiving's long weekend in 2014. On Cyber Monday alone, online sales nationwide grossed more than $2.6 billion.
Plan to hold special sales on Green Monday, too. (Green Monday was eBay's answer to Cyber Monday, which has now caught on with many other e-commerce businesses. Set for December 14, the second Monday in December, Green Monday is recognized nationwide as ranking third in sales among all days in the holiday season. In 2014, Green Monday's gross online sales totaled $1.6 billion.
Develop your sales strategy for the days after Christmas and on into 2016. Many sales happen after the big holiday rush. With all the gift cards you'll be selling this year, January and February may continue to bring peak traffic – so start preparing now. If you're in the health & wellness space, New Years' Resolution season in January is usually more productive than the holiday rush. The same can be said for tax services, accounting, textbooks, etc.
Send e-mail messages to encourage shoppers to come back and purchase items that they put in their cart and then abandoned. If you do not have a system in place to send cart abandonment e-mails, contact us. We can put you in touch with affiliates who provide this service.
* Statistical information courtesy of PMA (Performance Marketing Association) and Google/Ipsos MediaCT