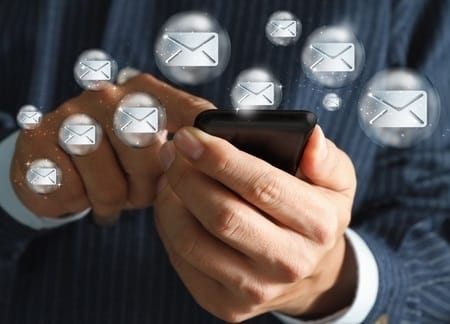 Does Email Marketing Work Anymore?
Affiliate marketing experts constantly talk about new ways to promote goods and services. Many gurus seem eager to proclaim every technology "dead" within a decade. Nonetheless, some older methods remain quite effective. Email promotions regularly outperform trendy techniques like social media marketing or SMS messaging. The statistics prove that email reliably delivers more sales, high response rates and greater returns on investment. 
Impressive Results
Email messages generate more conversions than social media and nearly match postal mail success rates. Almost three percent of each email ad's readers will buy products or take other desirable steps, according to the CMO Council. Strong campaigns often achieve click-through rates in excess of 10 percent. Affiliate marketers succeed in using many different promotion techniques to boost sales, but few methods cost as little and deliver returns as high as good old fashioned email.
Affordable Advertising
Low promotional expenses make it easy for advertisers to experiment with creative strategies. They needn't risk hundreds or thousands of dollars on each campaign. Bulk email marketing remains significantly less expensive than SMS ads and targeted website banners. It doesn't cost as much as older methods like long-distance phone calls or newspaper advertising. And, with many email affiliates, payment can be based on performance rather than paying a flat fee as businesses would with other traditional advertising efforts.
Superior Personalization
Marketers can use mailing applications and customer databases to automatically personalize each message. For instance, a reader's first name will consistently boost click-through rates if it appears in the title. Advertisers may also promote specific products depending on subscribers' locations, interests or buying histories. This remains harder to accomplish with social media posts or Web display ads. Madrivo's Techtelligence analytics engine allows us to draw on more than two billion historical data points to target the most effective possible customer base for our clients' offers.
Easy to Integrate
When marketers recognize the enduring vitality of email advertising, they usually don't abandon newer methods. They often achieve the best results by integrating electronic mail with the latest promotion techniques. For example, advertisers more than double click-throughs when they include social media sharing links. Some companies also use email newsletters to remind readers about things like webinars, blogs or to encourage downloads of the latest smartphone apps.
Mobile Accessibility
Although email is an older technology, this communication system remains popular among mobile device owners. More than 90 percent of smart phone users check their email from a mobile device at least once per day. Many people prefer email to SMS and social media networks, according to Entrepreneur magazine. Marketers also find it comparatively easy to create mobile-friendly messages with responsive email design.
Diverse Industries
The power of social media, texting and other trendy methods still varies considerably from one industry to the next. On the other hand, affiliates can successfully use the same email technology to advertise almost any product or service. All major industries normally achieve open rates exceeding 12 percent, according to Smart Insights. Nonprofit, sports, construction and art promoters report that people read over one-quarter of their messages and click at least three percent of the links.
To sum it up, email advertising continues to yield excellent results in many different situations. Its versatility, personalization and precise targeting help make this possible. Furthermore, it's the only communication method that reliably reaches the vast majority of Internet users. Although newer techniques certainly benefit affiliates in some industries, email should remain a key element of any marketing, customer acquisition, or lead generation campaign.