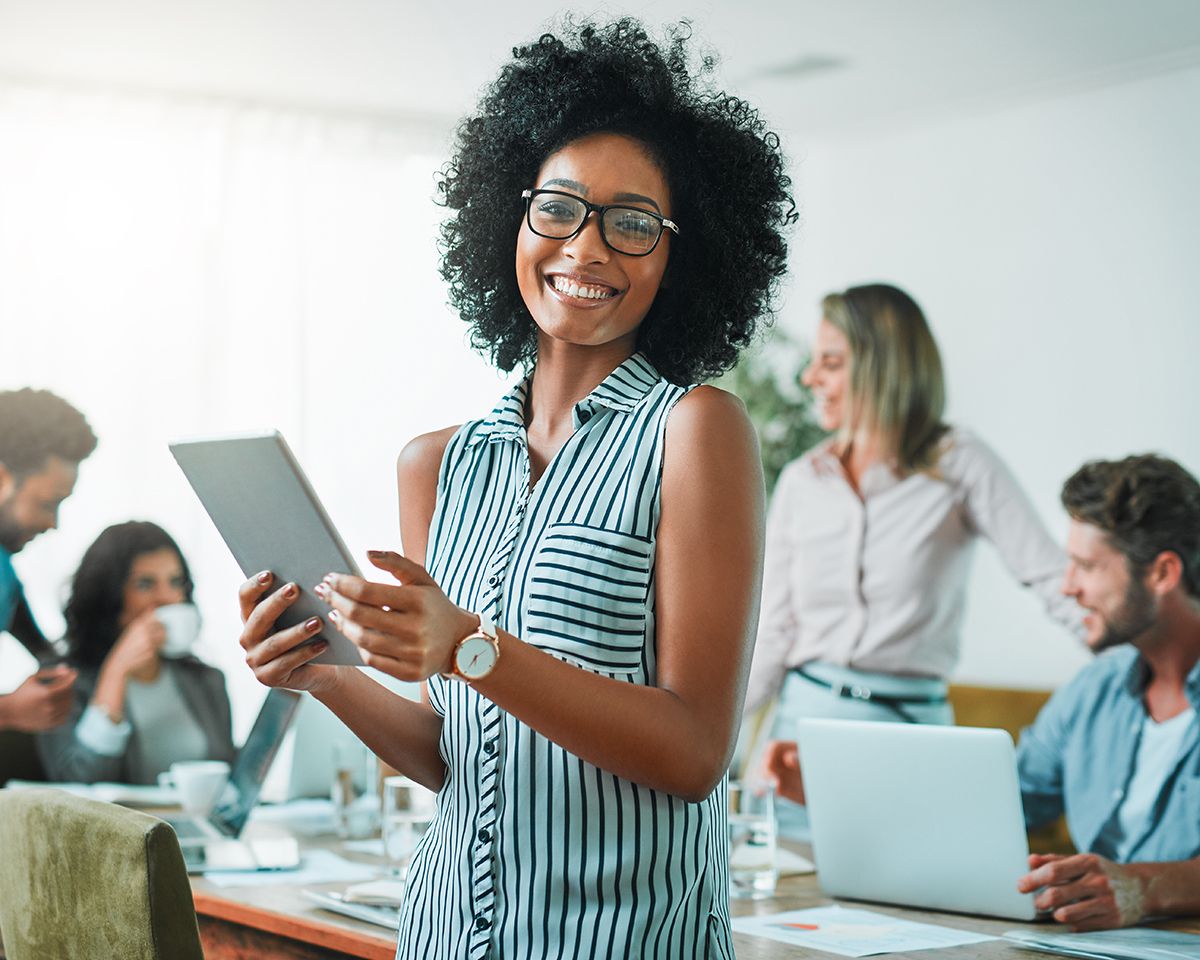 Five Tips to Optimize Google Ads Search Campaigns
With global digital ad spending on track to cross $450 billion in 2021 – and forecast to surpass $645 billion by 2024 – performance marketers face an increasingly crowded arena to drive clicks and conversions. With search engine marketing (SEM) continuing to represent more than 40% of worldwide digital ad spend, optimizing Google Ads Search (GADS) is more important than ever.
At Everflow, my job as demand generation manager is to extend our SEM budget as far as possible – and drive high-quality conversions, otherwise known as marketing quality leads (MQLs). 
Below, I've provided five tips that have helped me transform the performance of Everflow's Google Search campaigns in the competitive affiliate platform space. Each of the five tactics below has helped drive our overall click-through rates (CTRs) higher and cost per conversions (CPCs) lower. 
These tips can be easily leveraged with GADS' standard online advertiser experience, no matter your experience level, tech stack, or integration footprint with Google Ads. BTW, if you'd like to dive even deeper, check out Everflow And Google Ads Search: An Internal Case Study, where you'll find in-depth information about how the Everflow partner marketing platform drives far greater efficiencies and functionality with Google Ads.
Now, let's get to those five tips that can drive forward your campaign performance.
#1. Use Image Extensions To Increase CTRs
Google Ads Search campaigns haven't changed much since their original launch in 2000. They remain text-only ads with links to landing pages. Google has continued to test new ad features, though mainly for advertisers. Although there have been several starts and stops since 2013, GADS officially launched Image Extensions in July 2020.
Image Extensions enable advertisers to upload relevant visuals in two ratios (1.0 x 1.0 and 1.0 x 1.90). Google serves and places these images adjacent to your SEM ads across desktop, tablet, and mobile. At Everflow, I've tested Image Extensions over several months and have found them to add 0.5% to 2.0% to our overall CTRs. 
As you'll see in the screenshot below, Everflow's Image Extensions averaged a 4% CTR for the month of November 2021. These extensions have driven high CTRs in their own right, but they've also lifted our overall GADS account CTR above 3.80%, which is nearly double the 2020 Google Search average CTR of 2.00%. 

#2. Employ Sitelinks to Drive Conversions
As compared to Image Extensions, Sitelinks are an ancient Google Ads Search tool launched in 2009. Essentially, Sitelinks are short text blurbs that provide hyperlinks to a company's website pages. I've found Sitelinks to be invaluable.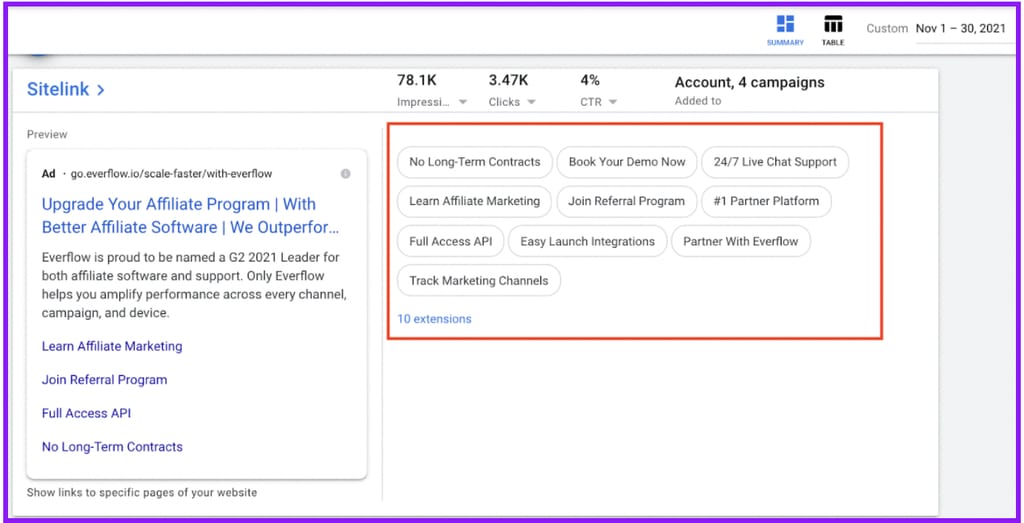 I view Sitelinks' benefits as three-fold: (1) Because I employ segregated Instapage landing pages with our search ads (more on this below), Sitelinks serve as a trust factor — showcasing our entire website; (2) Sitelinks occupy additional screen real estate, because they sit beneath SEM ads, pushing our competitors further down the search results page; and (3) With their hyperlinks, Sitelinks drive traffic from our SEM ads to our public website, which also drives organic conversions.
One final point regarding Sitelinks: The data that GADS presents regarding Sitelinks can be confusing. The screenshot below shows 116 Sitelinks clicks for November 23. I used to believe this figure represented actual clicks on Sitelinks and their URLs. Instead, this data represents clicks on any part of an ad.

In order to accurately track Sitelinks clicks and conversions, I've established Google Sitelinks as a unique partner in the Everflow partner marketing platform — separate from SEM. The same way that you can append parameters to an ad's final URL for tracking, you can apply them to Sitelinks' URLs.

On the day referenced in the screenshot above, our actual Sitelinks clicks were 18 — just ~15% of the figure that Google Ads referenced. Keep this reporting discrepancy in mind as you review the performance of your account's own extensions.

#3. Use Segregated Landing Pages
Everflow's website (everflow.io) is our most valuable marketing asset and built for various audiences (e.g. prospective affiliate networks or advertisers looking to upgrade their tracking platforms, current clients seeking release notes, tech professionals reviewing our job postings, and anyone in the space interested in becoming a referral partner). 
The mission of the Everflow website in a single word is exploration. In my view, the point of an SEM landing page (LP) is the opposite of this goal. 
I want our LP visitors to focus on one goal: submitting our demo request web form. For this reason, I've segregated our landing pages on a subdomain and use Instapage to serve these landing pages to desktop and mobile visitors with speed. I also continually revise our LPs to remove distractions, including backlinks to our website.
#4. Don't Overlook Negative Keywords
There are performance marketers that have dedicated their careers to enabled keywords in Google Ads. Heated debates continue to stoke online between proponents of single keyword ad groups (SKAGs) — and their detractors. (By the way, my rule-of-thumb is 20 keywords per ad group or less.)

Negative keywords are often overlooked — and are just as critical as their enabled counterparts. I refine our negative keywords daily because they improve CTRs and extend our spend. In short, negatives ensure our SEM ads only run against relevant queries.
It's important to mention that the distinction between match types with negative keywords is far less, as compared to enabled keywords. The difference between "broad" and "phrase" match types with negatives is just ordering — while the sole distinction between "phrase" and "exact" match is extra words. 
Here's the rubric I use for negatives and match types: Your ads will not show if the search query contains:
Broad: All of the exact words in any order, even with extra words.

Phrase: All of the exact words in the same order, even with extra words.

Exact: All of the exact words in the same order, with no extra words.
Over the last year, I have steadily moved from "exact" match to "broad" match on our negatives — and likely could have been more aggressive from the outset.
I often push up against GADS' 5,000 negative keyword limit, which forces me to remove duplicates weekly. Lastly, I prefer to utilize one master negative keywords list and run it across all campaigns. A single list makes it far easier to manage thousands of negatives on a daily and weekly basis.


#5. Retire Your Expanded Text Ads

GADS' Responsive Search Ads (RSAs), like responsive websites, have been hanging around since 2018. I know a few performance marketers who refuse even to test an RSA, as they keep plugging away with Expanded Text Ads (ETAs). These individuals are now beginning to experience discomfort — as RSAs became the default SEM ad type in 2021.

The move from ETAs to RSAs means that when you click to create a new ad, there are now only two options: RSAs or "Call Ads". By June 2022, advertisers will no longer be able to edit ETAs.
At Everflow, I transitioned entirely to RSAs in August 2021. Although responsive ads require 15 headlines and four descriptions, these ads still serve and place just like traditional ETAs on the SERP.

Since I switched over to RSAs, our CTRs have noticeably improved. 
GADS' algorithmic engine continually tests assets (mixing and matching headlines and descriptions) and optimizes combinations. I now have just one or two RSA ads per ad group, making the account far easier to manage and update. If you haven't transitioned to RSAs, I'd recommend doing so ASAP.
Last Words — The Power of Active Account Management
I hope you've taken away a few ideas from this blog post that will improve the performance of your own SEM campaigns. By implementing the five tactics covered, I've significantly improved Everflow's campaign performance, but also discovered features and tools that have enhanced my overall understanding of GADS.
Google Ads Search is not a "set it and forget it" platform. It requires daily analysis, testing, and optimization across tens of different factors, features, and tools. In other words, SEM campaigns really require active day-to-day management to generate long-term solid results.
With this said, it's important to remember that GADS can take up to 30 days to complete its machine learning around your campaigns and update its algorithms. Just because a new tactic, like one of the five I've mentioned above, hasn't delivered results in a few days doesn't mean that you won't see better results in the weeks ahead.
For more information on optimizing SEM campaigns, please visit Everflow And Google Ads Search: An Internal Case Study, which details how pairing Everflow and GADS can ignite the true power of both platforms. 
Good luck with your demand generation efforts!
This article was written by Julian Willis, our dear friend, and partner at EverFlow.
Julian handles Demand Generation for Everflow, the Partner Marketing platform that goes beyond managing affiliates: Track every performance channel, integrate your tech stack, and drill down into what delivers ROI. Join more than 750 cutting-edge agencies, networks, and brands that chose Everflow, including Dentsu, DFO Global, Skillz, ShipBob, and more.