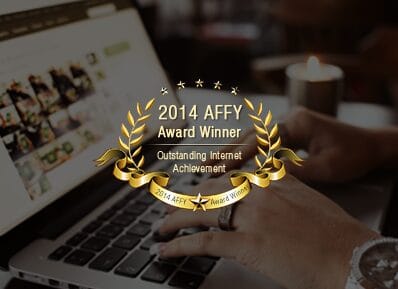 MADRIVO WINS A 2014 AFFY AWARD FOR OUTSTANDING INTERNET ACHIEVEMENT
Madrivo and the President of Madrivo, Mr. Kyle Terry, won a 2014 AFFY Award for Outstanding Internet Achievement this week at Affiliate Summit. AFFY awards are presented to companies and individuals that transform the Internet marketing industry and set a higher standard for performance and execution.
Under the guidance of Mr. Terry, Madrivo was able to grow over 400% in 2013 due to a strong base of unique customers, leading conversion rates for advertisers, and highly profitable access to eight of the top ten online publishing channels. In addition, Madrivo set new standards for trust, trustworthiness, and compliance by accessing the most credible marketing channels and structuring advertisements to build credibility with consumers.
In 2014, Madrivo expects to continue to provide advertisers and online publishers with increased value through the combination of leading agency services, diligent media selection, and the proprietary analytical methodology, Techtelligence.