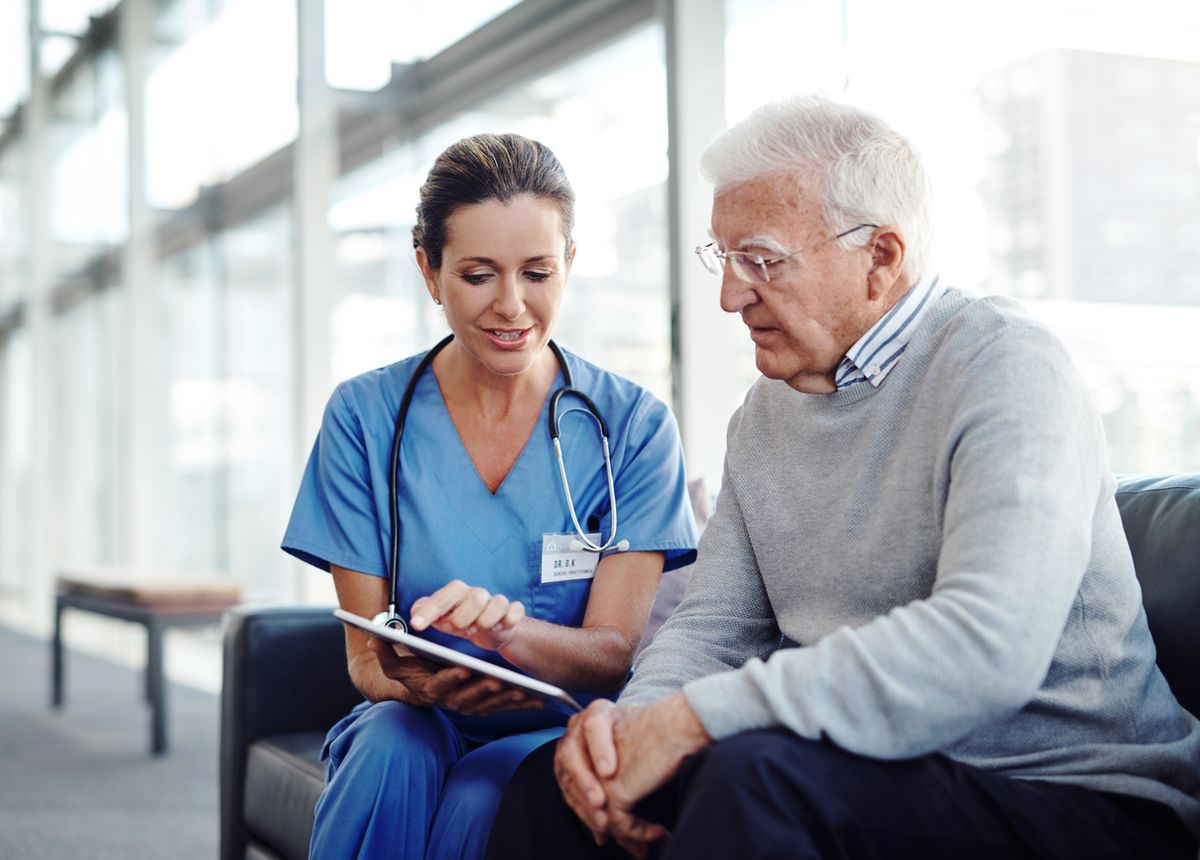 Medicare Advantage vs. Medicare Supplement: An In-Depth Guide for Advertisers and Publishers
Introduction

Navigating the maze of Medicare options can be a challenge. But for advertisers and publishers in the world of marketing, it's a challenge worth conquering. Two terms often arise in this maze: Medicare Advantage and Medicare Supplement (sometimes referred to as "Medigap"). How do these two plan options differ, and what makes them unique? Let the experts here at Madrivo simplify the complexity.

Target Audiences

Do you know your audience when it comes to each program? Let's look at who you'll be targeting:
Medicare Advantage: Medicare Advantage, also known as Part C, is a health insurance plan provided by private insurance companies approved by Medicare. It combines the benefits of Medicare Part A (Hospital Insurance) and Part B (Medical Insurance) and often includes additional services like dental, vision, and wellness programs. It is a popular option for seniors who desire all-in-one coverage. It attracts those who value convenience, additional benefits, and a managed-care approach.
Medicare Supplement: Medicare Supplement, commonly referred to as Medigap, offers additional coverage to Original Medicare (Part A and B). These policies are sold by private companies to cover gaps in Original Medicare, such as copayments, coinsurance, and deductibles. It's the choice of those seeking flexibility in choosing doctors and predictability in out-of-pocket costs.

Key Differences

What sets Medicare Advantage and Medicare Supplement apart? A few key areas: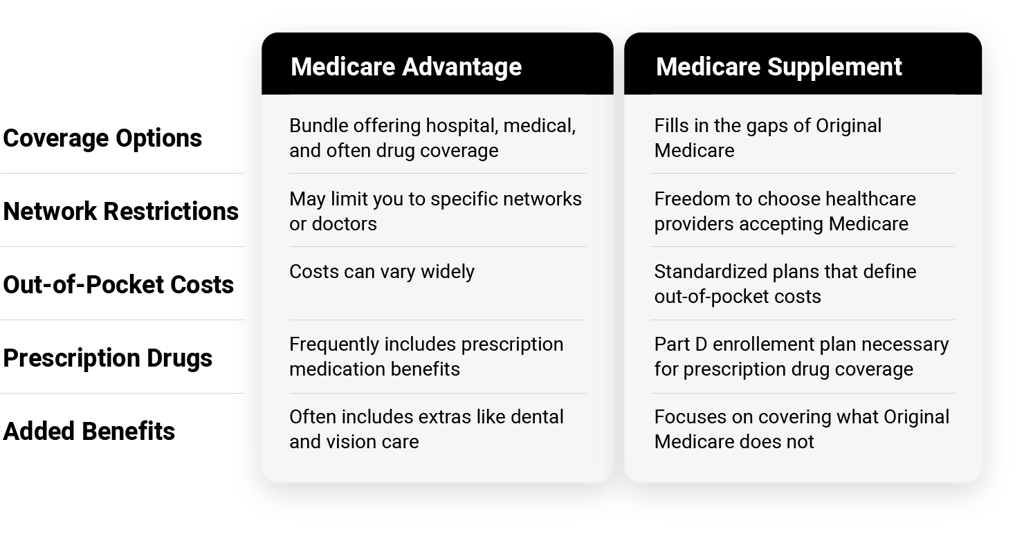 Who Is Eligible for Medicare Advantage and Medicare Supplement

Medicare Advantage

Age: Generally, those aged 65 or older qualify.
Disability: Individuals below 65 may be eligible if they are disabled and have received Social Security Disability Insurance (SSDI) for over 24 months.
Residency: Customers must reside in the coverage area of the Medicare Advantage plan they want to join.
Medicare Supplement

Enrollment in Original Medicare: Customers should have both Medicare Part A and Part B.
Age: Typically available to individuals aged 65 or older, although some states may provide Supplement plans to those under 65 with specific disabilities.
Timing: The optimal time to purchase a Medigap policy is during the six-month Medigap Open 
Enrollment Period, which starts the month you turn 65 and enroll in Part B. During this timeframe, you have guaranteed issue rights, meaning coverage cannot be denied or cost more due to health status.
No Medicare Advantage Plan: You cannot have a Medicare Advantage plan while enrolled in Medicare Supplement
Enrollment Windows

Medicare Annual Enrollment occurs each year from October 15th to December 7th, while Medicare Advantage Open Enrollment takes place from January 1st to March 31st. Both events happen annually.
Medicare Supplement's open enrollment period spans six months, beginning on the first day of the month a customer turns 65 or older and enrolls in Part B. After this period, purchasing a policy may become limited and potentially cost more.

Suggested Marketing Angles

How can these insights shape your affiliate marketing strategies? Here are a few angles to consider:
Medicare Supplement Marketing Angles

Marketers and publishers can highlight the financial stability provided by Medicare Supplement plans, emphasizing how they help cover out-of-pocket costs and reduce financial stress during retirement. Highlight the simplicity of standardized plans and the choice of any doctor or hospital that accepts Original Medicare.
Financial Stability:

Emphasize how Medicare Supplement helps cover out-of-pocket costs and reduces financial stress during retirement.

Simplicity of Standardized Plans:

Highlight the simplicity of standardized plans available in most states.

Choice of Providers:

Stress the choice of any doctor or hospital that accepts Original Medicare.

Complete Solution

: Position Medicare Supplement as a solution catering to various needs by complementing Original Medicare.
Medicare Advantage Marketing Angles

When marketing Medicare Advantage plans, focus on the comprehensive care they provide by bundling hospital and medical services with additional benefits like dental, vision, and hearing coverage. Highlight the potential cost savings through lower monthly premiums and the convenience of coordinated care.
Highlight the comfort of gap coverage, which ensures added protection from unexpected healthcare costs. Position Medicare Advantage plans as a tailored, reliable option that adapts to individual needs and preferences.
Comprehensive Care:

Focus on the bundling of hospital and medical services, including dental, vision, and hearing.

Cost Savings:

Emphasize potential savings through lower premiums or in-network choices.

Coordinated Care:

Highlight the convenience of having all care coordinated under one plan.

Gap Coverage:

Point out added protection from unexpected healthcare costs.

Tailored Solutions:

Position Medicare Advantage as adaptable to individual needs and preferences.

Key Terms Explained

Medicare Advantage
Managed Care:

Organized provider network.

All-in-One:

Combines various Medicare parts.

Extra Benefits:

Additional features like vision or dental.
Medicare Supplement
Gap Coverage:

Fills in Original Medicare's gaps.

Standardized Plans:

Fixed benefits across plan types.

Freedom of Choice:

No network restrictions.

Google's Policy -hahaon Health Insurance Advertising

For affiliate advertisers in the U.S., Google's certification for health and medical insurance, including Medicare Advantage and Medigap, is paramount. In the United States, advertising health and medical insurance coverage on Google requires certification, with the exception of government advertisers who are pre-approved. 
Examples of health and medical insurance coverage that require certification include individual health insurance, short-term insurance, limited-duration insurance, fixed indemnity health insurance, Medicare Advantage, Medigap, and Medicaid.
Health and medical insurance advertisers, other than government advertisers, must be certified by Google to serve ads in the United States. This certification is required for all ad formats and assets. To apply for healthcare products and services certification, please refer to Google's guidelines.

Conclusion

Medicare Advantage and Medicare Supplement serve distinct needs. Whether it's the bundled convenience of Advantage or the gap-filling reliability of Supplement, understanding these two roads is crucial for effective marketing campaigns.
Ready to master the Medicare maze? Work with Madrivo to connect with your target audience or increase your revenue by joining our exclusive publisher network.
For more insights and expert analysis, join our exclusive webinar series on Medicare marketing. Click here to get in touch with our team and redefine your affiliate advertising success.