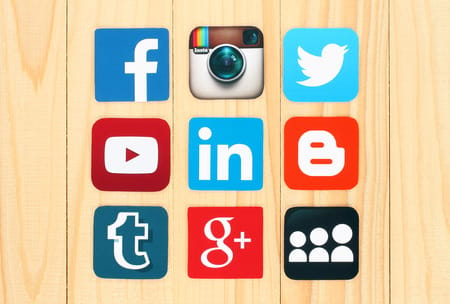 The Best Social Media Sites for Your Brand
The number of social media channels available today is incredible, but it can also be overwhelming. With over 200 social networking sites to choose from, it is no wonder that many companies don't know where to start. Well, I'm here to help! Read on to learn more about the most popular social media channels, the pros and cons of each site, and the option to use based on your brand goals.
The three greatest benefits of social media are: 1) the way each site makes it easier than ever to connect with your target audience (and for them to connect with you), 2) most social media sites are free and advertising is also relatively inexpensive in comparison to other marketing channels, and, 3) unlike your website, social media is already mobile optimized to ensure effectiveness on cross-device promotions.
Here's a quick reference for the best sites to use based on your business needs and/or target audience.
Best for Business Professionals and B2B Brands: LinkedIn, Google+
Best for Retail and Entertainment Brands: Facebook, Twitter
Best to reach Female Audience: Pinterest, Instagram, Facebook
Best to reach male Audience: Twitter, LinkedIn
Now, let's dive into the details…
Facebook
The benefits of using Facebook start with the sheer number of people who use the site on a daily basis. As of the first quarter of 2016, Facebook had 1.65 billion monthly active users, meaning each user logged at least once within a 30-day period. With an audience this massive, it's relatively easy to reach thousands of people with one brand campaign. Given the volume, however, how can you be sure that you are reaching the right audience? Well, you can use targeted ads to specify the right age group, gender, and location of prospective clients. How cool is that? However, keep in mind that upkeep is key in the realm of Facebook, and your page isn't going to run itself. It will require a reasonable amount of time, optimization, and ad spend to get your company name in front of the right set of eyes.
Twitter
With 59% of millennials having an account on the platform and 26% being active users, it is no wonder Twitter is considered the best place to listen and be heard. It is a versatile platform where users go to get the latest news, celebrity gossip, and updates from their favorite brands. With over 310 million active users and the ability to quickly search with ever-changing hashtags, Twitter has made its mark and is here to stay. Quick tip: Expect your company to be reviewed on Twitter whether or not you have an account. It is a good idea to keep an eye out for your company name in the Twittersphere, just in case you need to make things right with a customer!
Users are somewhat limited by the 140-character count allowed for each tweet, which is especially difficult when you are adding links and hashtags so it pays to be short and sweet! To be successful, you have to be very active with Twitter as there are thousands of Tweets constantly streaming, meaning your most recent post will be buried by more recent ones in a matter of minutes. Be sure to sponsor your posts so that they appear at the top of twitter feeds of users who fall into the same category as your target audience.
LinkedIn
Out of all the social media channels, LinkedIn is hands down the best choice for professionals. 433 million users use this site as a venue to showcase their resume, highlight their skills, and network with friends and potential clients. In other words, save the outrageous pictures from your lively weekend for Facebook. For businesses, though, the site's value is a bit different. LinkedIn is where businesses come to, well, do business. They post important messages on their company page including press releases, job openings, and new blogs.
The benefits of LinkedIn for businesses are vast. You can find someone for a position you were looking to fill without them even knowing your company exists. The site is full of serious business professionals looking to build partnerships with new clients and vendors. You can spend some time targeting ads to just the right people using their specific title and position to determine who sees your promoted ad. The only pointer that should be emphasized about this site is that you will want to keep it professional in order to make the right impact. Silly pictures and humorous one-liners may not get you the connections you are seeking!
Google +
Google+ has a user base of 2.2 billion. With a Google platform, you have to expect great things, and Google is sure to deliver! One of the greatest benefits to creating an active Google+ page is that the content you post can rank in Google's browser search results, especially if people are interacting with it. Google was also able to integrate features such as Google Hangouts, hashtags, and +1s to provide a unique and interactive engagement platform for users.
It's important to keep in mind that Google rules the world, or should I say, the world wide web. Accordingly, you can connect your Google-owned YouTube and Gmail accounts to Google+ to get the most out of all of your Google tools with minimal effort. Still, as we've seen with Facebook and Twitter, you have to be very active to reap the rewards, especially if you are aiming for a high Google search ranking.
Pinterest
If you are a baker, crafter, artist, teacher, marketer, or in any other profession that involves a little bit of creativity, you have probably been lost in Pinterest more than a few times. Over 100 million Pinterest users share their passions through images with links to recipes, galleries, and other materials that engage users with the same interests. There are thousands and thousands of backlinks to websites including blogs, how-tos, and other informative articles. These backlinks are especially effective for business owners when they link to your website's homepage, blogs, or even videos.
One thing that you may have noticed about Pinterest is that ALL the links have images, making it really difficult for companies that don't have a lot of pictures to participate in the use of this medium. Not only are the images a setback for many companies, but so is the group of people using the site. The majority of users are women ages 25-45 so if you sell clothes, shoes, beauty supplies, furniture or cooking supplies, you have come to the right place.
Instagram
Like Pinterest, Instagram is an image-heavy platform where 500 million users post images of their food, their vacations, and their shopping sprees. For a business, it could be just what you need to give your brand the approachability of a human persona that many consumers seek. You can post images of company outings, new office decorations, and anything else that helps represent your company and its brand. The down side to this site is that a mobile device must be used to post on this platform, meaning it might be time to invest in a tablet or smartphone. The demographic is reasonably restrictive since most of the audience are females age 18-35. On the other hand, if that's your target audience, congratulations, you found the key to engagement!
YouTube
YouTube has 1 billion active users a month and hundreds of hours of new video content are uploaded daily. It is the second largest search engine after Google and videos are 50 times more likely to appear on first page Google results. Videos are becoming ever more important in the world of marketing. Some things you need to be aware of include the keywords you are using and the competitive nature of YouTube. Everyone wants to be a YouTube sensation and they invest time into becoming one. In order to get your brand noticed, you too will have to invest time and money in creating videos that people want to watch.
Now that you know the basics of the most popular social media channels, you've hopefully learned enough to pick out a few sites that seem like they would be especially beneficial for your company. Take a shot at setting up accounts with a couple of these sites and see how they can benefit your brand! Ready to run traffic to your brand through social media and other media channels? Reach out to Madrivo if you would like to learn more about how your ads can be run across different social media platforms.
Sources:
http://www.businessnewsdaily.com/7832-social-media-for-business.html
https://blog.kissmetrics.com/which-social-accounts-matter/
http://www.adweek.com/socialtimes/heres-how-many-people-are-on-facebook-instagram-twitter-other-big-social-networks/637205